…and they have been worn WELL.
My first Ebanned auction in years is up and ready for bidding. Find my listings HERE. My user ID is Pr1ncesssarah. I live in sunny Florida now, so the stink I can work up on my sweaty, slick feet is fucking amazing. It's top-shelf elixir for the most discriminating foot aficionado. Just think of all the fun you could have, with the blinds drawn and the doors locked while you jerk off and fantasize for 24 hours straight.
Brat Princess Sarah Diavola: BOOTS
Worn out and abused in videos & life. Size 6. Will be full of sweat and stink.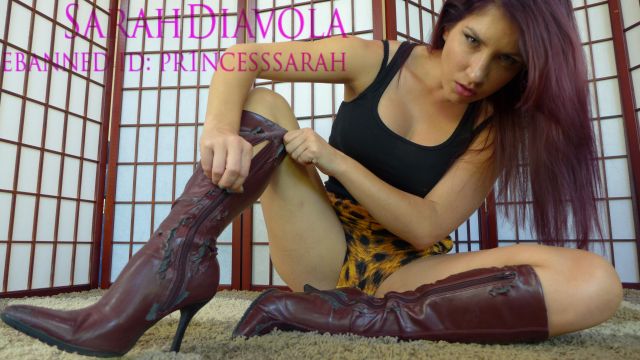 About My Item
My foot scent can be described as sweet, musky, a little pussy-like, heady, with a hint of vinegar. No cheese here. When I get them stinky, they are intense and capture the hearts of the most picky foot fetishists. I can often smell them myself, from 5'3″ away!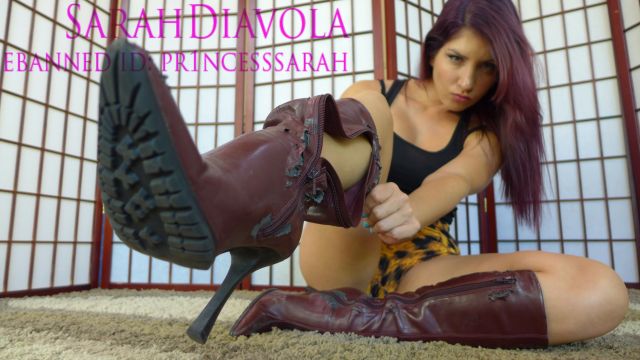 These boots have been in videos and photos over the years, and they show it. They are size 6 Steve Madden skin-tight stiletto heels with pointed toes, burgundy patent leather. The outsides are all torn and peeling, and the insides actually make my feet and legs dirtier after wearing them. They are very comfortable, even though they're heels, so you know I wore them out often.
I mail all of my packages in vacuum-sealed bags, discreetly labeled, and with fast shipping. Shipping is $10 flat, and you can add $15 for overnight or international packages.
This auction includes the BOOTS, a DVD of FREE VIDEOS, plus the ENTIRE PHOTO SET I took for this shoot. If you have a specific photo request, I will honor ONE additional photo as part of your winnings.